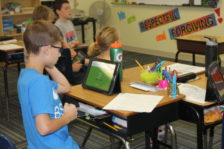 Employment at Bethany Christian School (BCS) is open to qualified individuals who are Christians of good character, without regard or reference to race, gender, national or ethnic origin, color, age, or disability.  BCS is a religious, educational ministry, permitted to discriminate based on religion.  All prospective and current employees must agree with the BCS mission statement, and they must be willing to conduct their lives in conformity with the school's statement of faith and the school's declaration and agreement to ethical and moral integrity.
Interested applicants should submit a completed application for the position and three (3) forms for references; Pastoral Reference, Personal Reference, and Employer Reference.
Depending on the position, we offer a tuition discount based on the number of hours worked per week.
Bus Driver: We are in need of a bus driver (or two) for next year. BCS will pay for training. We need a driver for the Maryland bus (about 3 hours per day, every school day) and a driver for field trips and sports (hours vary). Drivers are BCS employees and receive an hourly wage as well as tuition discounts.  Qualified applicants must have their CDL and School Bus Driver Certification with a passenger stamp and pass our background screening.  Interested candidates should email info@bethanychristian.org to be interviewed.
Substitute Teacher: We are always adding to our list of on-call substitutes. A college degree is required, but the PA Teaching Certification is optional. Please fill out the Substitute Teacher Application and return with a resume and three references (see forms above for Pastoral, Personal, and Employer) to info@bethanychristian.org to be interviewed and placed on our sub list.