Help us bridge the gap between our tuition rates and the true cost of a BCS education
Fundraisers
Support of our families, alumni, and community helps drive BCS' continued growth and success. We have two primary fundraisers throughout the year to benefit BCS. These fundraisers go to support the mission of the school and help keep tuition as affordable as possible.
Annual Banquet
Thank you to our 2018 Banquet Sponsors! Please support these businesses if you can!
Double Platinum ($2,000) – Alvarez Spawning Services, Inc.
Platinum ($1,000) – Oxford Mini Storage  –  Bill Shepherd
Gold ($500) – Bruce and Kathy Book – G.E. King LLC Construction Services – Edwin Herr – Herr's
Silver ($250)  – Edward L. Collins, Jr. Funeral Home, Inc.  –  A-1 Mulch – Herr's – Martin Appliance – E. Squires Paving
Bronze ($125) – Cameron's Heating/Plumbing/HVAC  –  Hair & Things – Ferguson and Hassler, Inc.  –  Citadel  –  Kreider's Market, Inc.  – Nawn and Company, CPA's, Ltd. –  Lyons & Hohl Paving – McCormick Orthodontics  –  McMichael Law Office  –  Leo Somma  –  Walsh Excavating, LLC
After 10 years offsite, we returned to BCS to celebrate the BCS Family. The Banquet is a time of fellowship, to reflect on the positive impact our school has had on our student's lives as well as on the surrounding community, and to support special school initiatives.
Race for Education & Silent Auction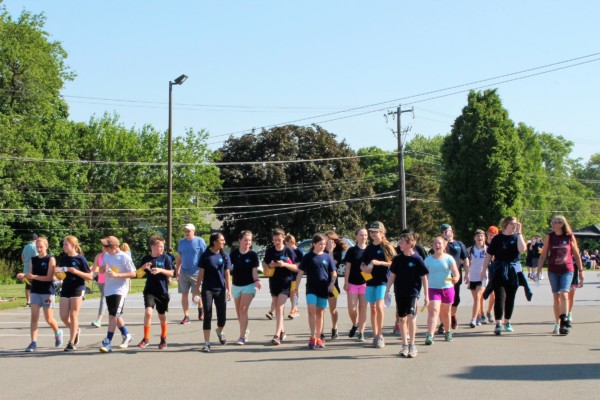 Our largest, most successful fundraiser each year is the Race for Education and Silent Auction. All are welcome to enjoy this exciting day of racing, bidding, eating, art, and games! In the past, we have raised over $40,000 to benefit our school and students.
To learn more, click here.
Other Fundraisers
Box Top Thursdays: Clip those Box Tops and give to BCS! Students bring in their Box Tops the third Thursday of each month to give back to the school. Student support helps bring in over $3,000 a year.
SCRIP Gift Cards: Buy a gift card as a gift or for your self and give back to the school. Our SCRIP Gift Card promotion is a chance to buy cards for your favorite stores and benefit BCS.